Vacuum Transport Seminar Autumn Seminar 2021 Session 2
November 1, 2021 @ 6:00 pm

-

7:00 pm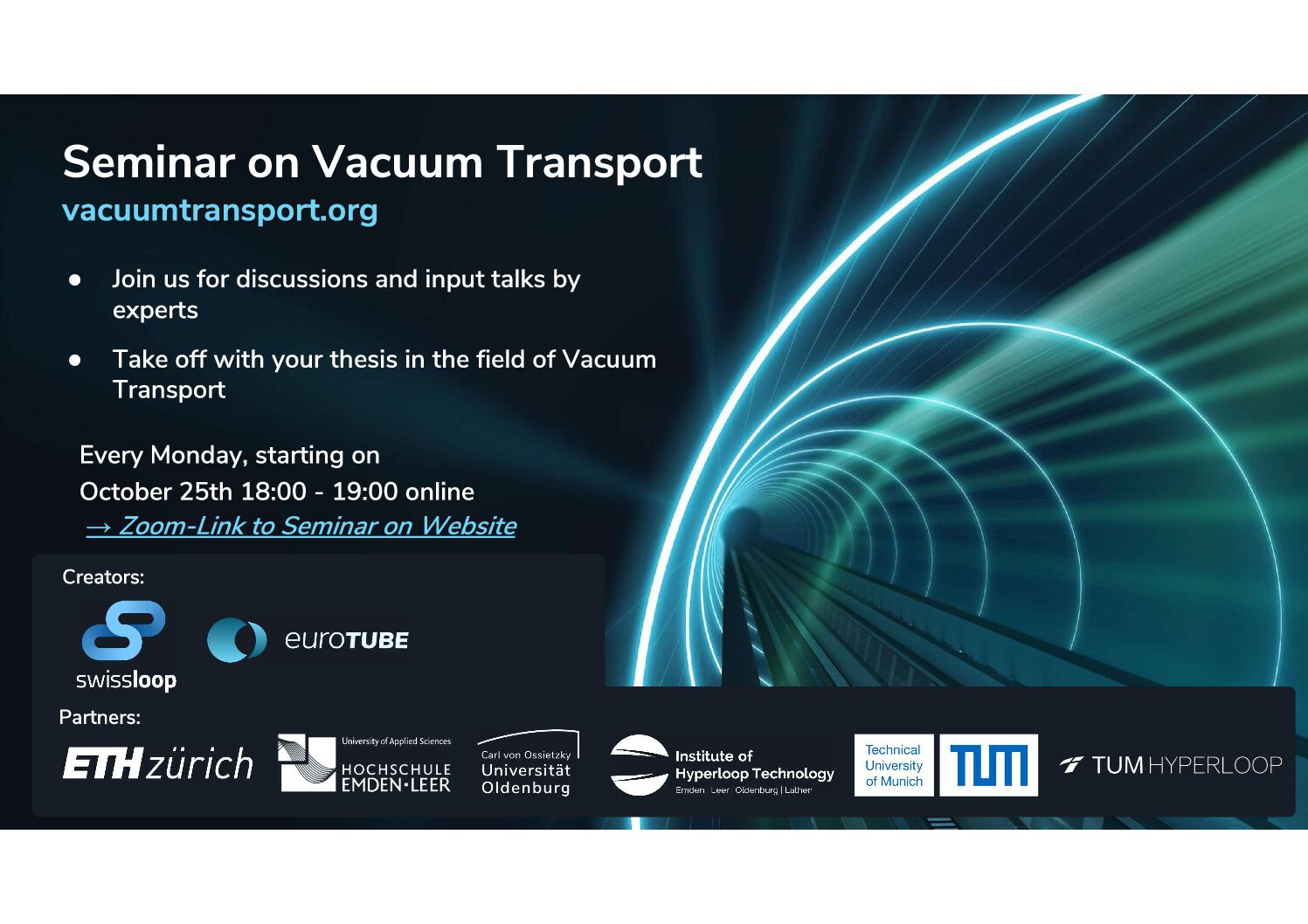 Speaker 1
Economic feasibility study on Hyperloop based on current European research data
M.Sc. Alexander Scholz, Student Business Informatics, University of Oldenburg and Institute of Hyperloop Technology
Besides other advantages of a European Hyperloop system, e.g. in terms of ecological impact and travel time savings, one of the most important criteria for its success in our world is economic feasibility and advantageousness. Several studies have already been carried out on this, especially by Hyperloop companies. As a kind of summary, these research works were examined and an economic feasibility study was created that compares the Hyperloop system with air transport, high-speed trains and MagLev systems. This resulted in a holistic view that compares the transport systems from both quantitative and qualitative points of view.
Speaker 2
Hyperloop System Design
Prof. Dr. Jonas Kristiansen Nøland – Associate Professor in Electrical Machines & Electromagnetics, Dept. of Electric Power Eng., Norwegian Univ. of Science and Technology, Trondheim, Norway
Evacuated tube transport in airless tunnels is currently viewed as the fastest way to cross the earth's surface. However, as a result of recent marketing hypes, not enough explanation of its core technologies has been provided to understand its feasibility fully. The optimal combination of tube depressurization and aerodynamic air losses with the propulsion, guidance, and levitation of capsules inside is still an open design question. In the end, the objective is to minimize global energy use inside the hyperloop ecosystem, and at the same time, minimize infrastructure needs and satisfy certain safety requirements. This presentation aims to provide some first principle replies to the overall design philosophy of the hyperloop transportation system.