Vacuum Transport Seminar Autumn Seminar 2021 Session 5
November 22, 2021 @ 6:00 pm

-

7:00 pm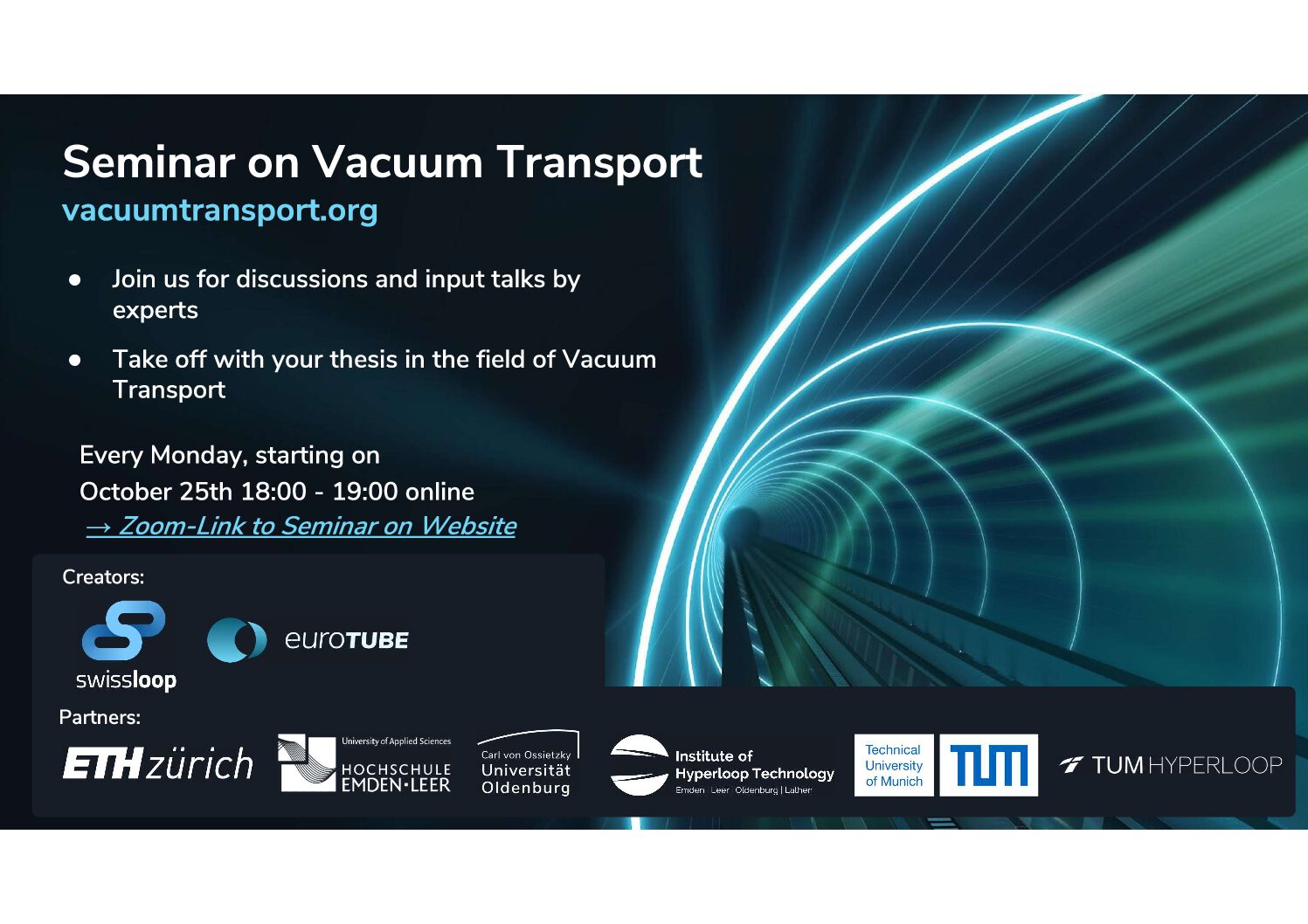 Speaker 1
Safe and modular high and low voltage electronics architecture for Hyperloop pod prototype
BSc Olaf Dünkel, Electrical Engineering and Information Technology , Karlsruhe Institute of Technology,  Head of Technology at mu-zero HYPERLOOP,
BSc Florian Keck, Electrical Engineering and Information Technology, Karlsruhe Institute of Technology, Head of Electronics
Nowadays, Electrical and Electronic Systems are one of the main enablers for innovative system development. A system-level design approach ensures flexibility, modularity, and safety during all phases of the development process. We present a standardized architecture consisting of hard- and software components as well as a custom CAN-based communication protocol. Particular emphasis was placed on the safe implementation of the high-voltage system and safety measures in the overall context. This shortens development times, ensures safety, allows for easy debugging and analysis of recorded measurement data.
Speaker 2
Dipl.-Ing. Architektur Dipl.-Ing. Maschinenbau (DH) Albert Schuster – CEO and Founder MOJA Design
Albert Schuster from MOJA Design explains the importance and the influence of design on the mobility sector. The principles which are important in the design process are explained based on an implemented public transportation system. Thereon the Hyperloop study which was developed by MOJA Design applying these principles will be presented in detail.