Vacuum Transport Seminar Autumn Seminar 2021 Session 6
November 29, 2021 @ 6:00 pm

-

7:00 pm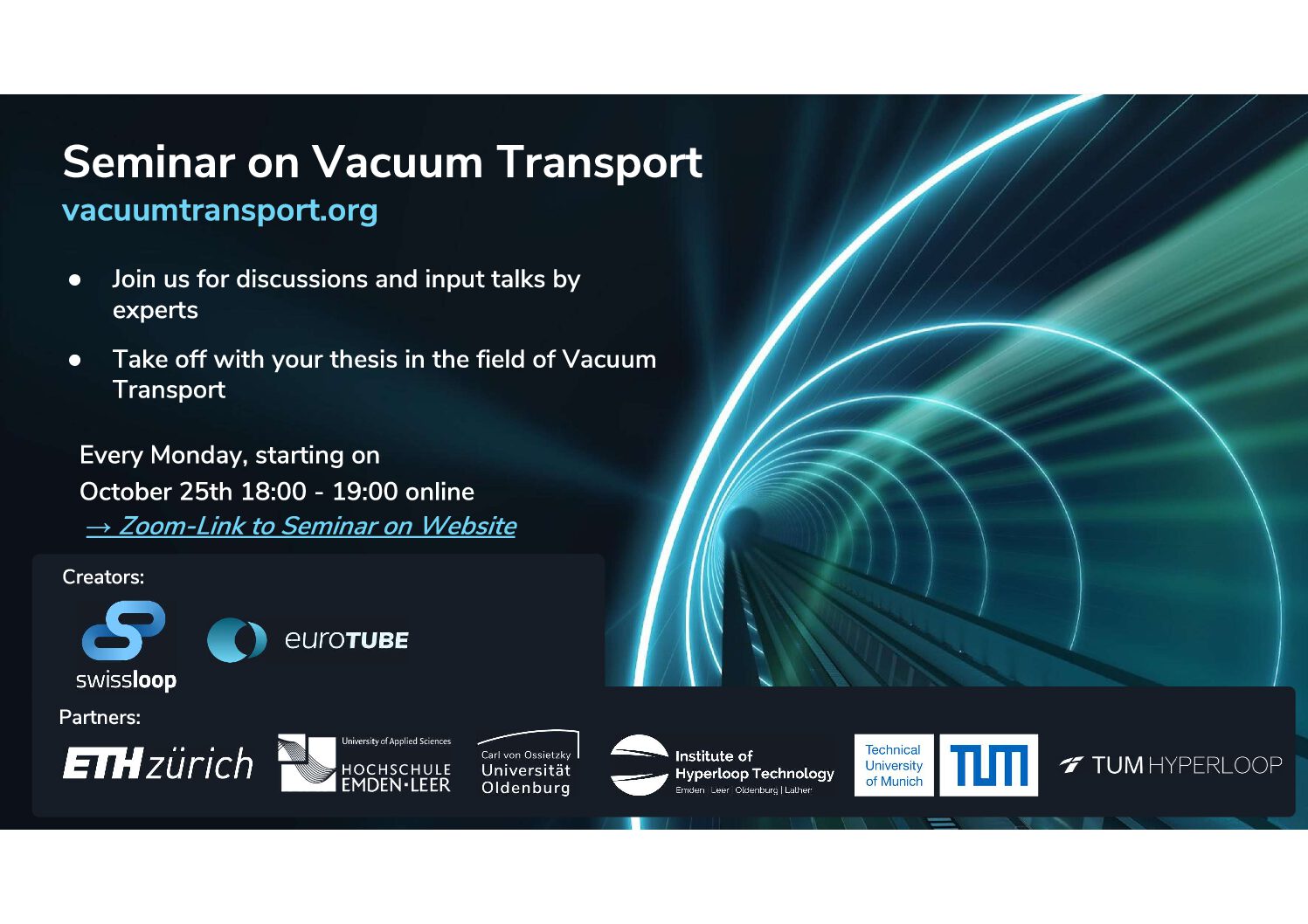 Speaker 1
Tube Dynamic Design and other Civil Engineering aspects
M.Sc. Jorge Martínez García, Design Engineer at Arup
The cost of the Hyperloop infrastructure is expected to represent more than 90 % of the project cost. The tube will also be predominantly elevated, which is more expensive than conventional at grade railways. Hence, a detailed study of the possible materials and bridge typologies is needed to minimise the cost.
However, there are not publicly available structural studies about the tube. This presentation, based on a Master´s thesis, covers this point. It first analyses the differences and competitivity between Hyperloop and other transport systems. It then studies the dynamic structural behaviour of the bridge, focusing namely on the vehicle-induced deflections on the bridge, which are very limited due to the pod´s tight tolerances. Finally, it compares the bridge typologies made of concrete or of steel.
Speaker 2
Challenges in Pipeline Diagnostics
Dr. Ingo Nee, Senior Technology Strategy Manager Rosen Group
Pipelines transport large volumes of gases and liquids such as oil, water, natural gas, and hydrogen. They are generally considered the safest means of transportation for fluids. However, external influences in the pipeline environment can cause defects such as leaks, metal loss, cracks and dents. These defects impair the integrity of pipelines. Early detection and proper assessment of defects is important to protect people and the environment from disasters and to ensure efficient operation of pipelines, as well as regulatory compliance. This presentation provides a brief overview of challenges and solutions in pipeline diagnostics. Are these methods and technologies transferable to the needs of Hyperloop diagnostics?