Diese Veranstaltung hat bereits stattgefunden.
Vacuum Transport Seminar Autumn Seminar 2021 Session 7
Dezember 6, 2021 @ 6:00 pm

-

7:00 pm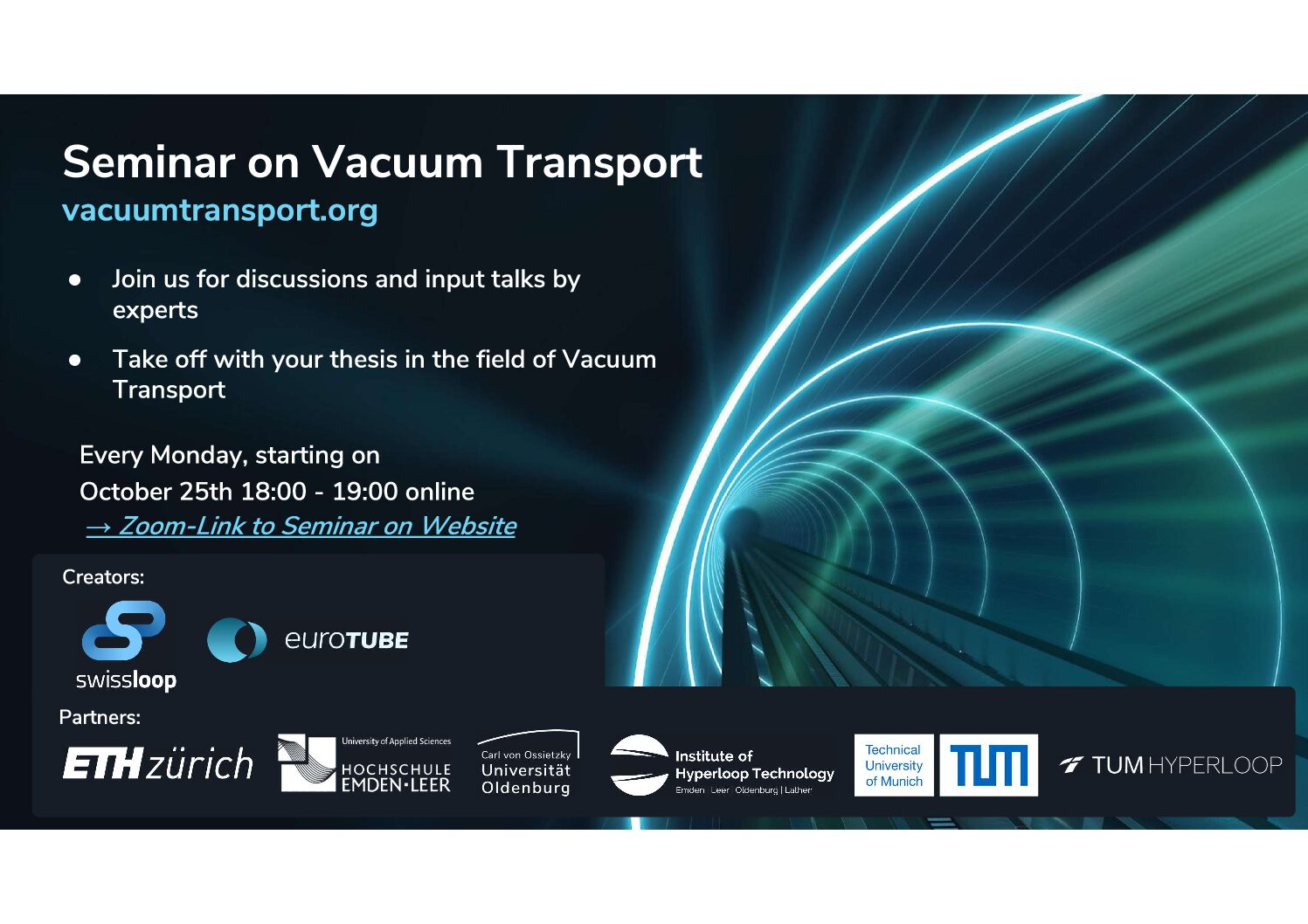 Speaker 1
Logistics Applications of Hyperloop
Akash Mankar, M.Sc., PhD Student, Institute of Hyperloop Technology, University of Applied Sciences Emden/Leer
Hyperloop has many different challenges like the public safety perception, therefore the industry should first focus on cargo transport. Hyperloop as a logistic backbone of supply chain presents interesting opportunities to some problems and is aiming to significantly reduce the direct emissions of air pollution and microparticles, while reducing the aerodynamic drag thus reducing energy requirement and noise.
The Institute of Hyperloop Technology (IHT) is working on one such specific use case for the cargo transport application for hyperloop system. Big automotive plants are delivered by around 900 trucks daily with ~1m3 cargo containers. A hyperloop track between the automotive plant and a warehouse with 10km distance is proposed to deliver the containers.
This presentation shows the challenges that such a system needs to address for high frequency cargo delivery. Main challenges like cargo handling, cargo loading, route optimization, scheduling and optimization are discussed. The pros and cons of different technological aspects of hyperloop like design pressure, blockage ratio, propulsion method, levitation is discussed for this specific use case. The scalability of this solution for real implementation of the use case is also reviewed.
Speaker 2
Gila Cohen Kropf, Head of Risk and External Affairs at Swisspod  – Hyperloop Regulations and Standardization
For every transport mode in the world, there are strict regulations and standards in place to comply with. But for Hyperloop, a new modern form of mass mobility still in its early stages, standardization and legislation are yet to be formulated. Implementing a safe and reliable system is the first priority for Hyperloop companies, as well as for rule makers and standardization bodies. This step is crucial for testing and certification processes, and it's the key to deploying the 5th transportation mode to the market. Today, Hyperloop companies worldwide are actively collaborating with stakeholders from the US and the EU institutions to establish future regulations, safety, and functionality standards for Hyperloop. Join the presentation the get a short glance into what the current global situation is and explore the steps towards standardizing and regulating this ultra-high-speed transportation system.