Diese Veranstaltung hat bereits stattgefunden.
Vacuum Transport Seminar Session 2 | 26.04.2021 at 18:00 CET
April 26, 2021 @ 6:00 pm

-

7:00 pm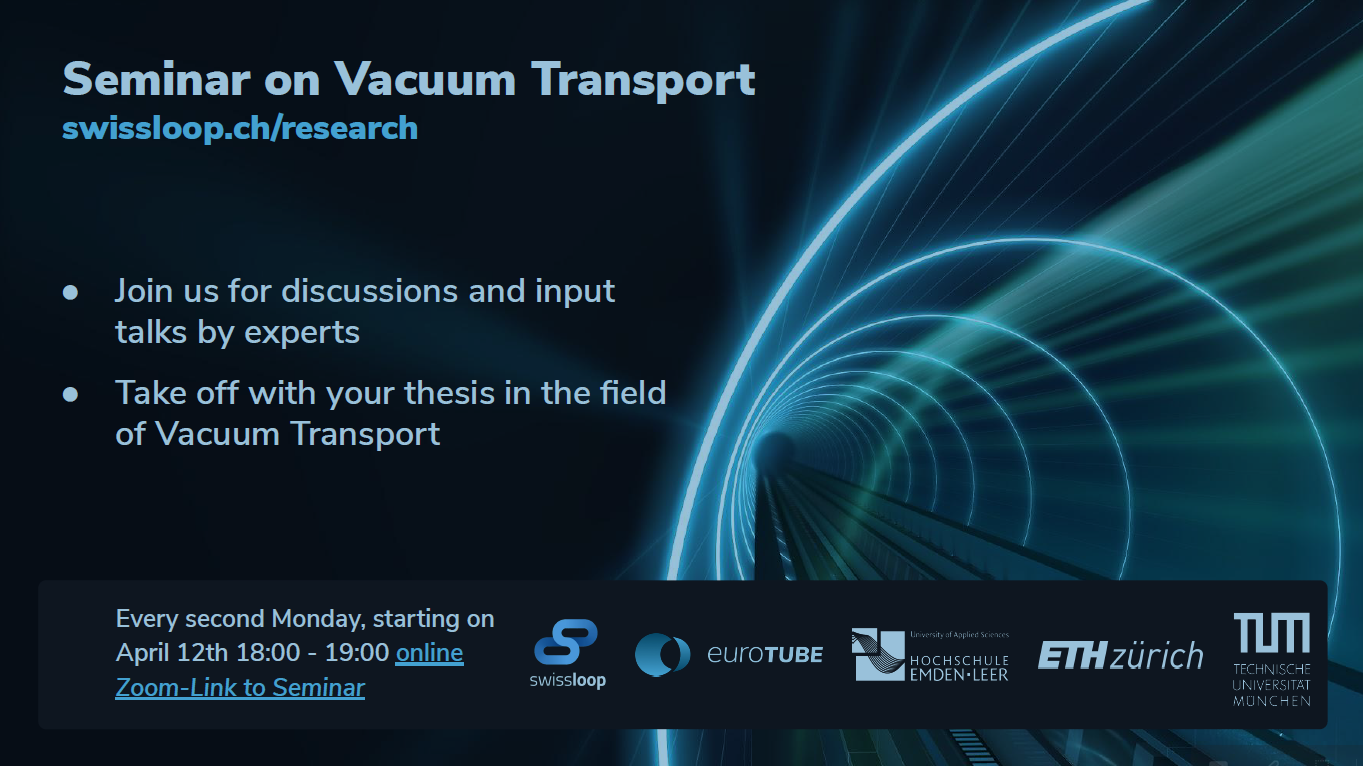 Speaker 1 | Large Scale Testing of Hyperloop Technologies
Dr. Ralf Effenberger – Intis GmbH – TVE (MagLev) test facility, Lathen, Germany
For the establishment of a European Hyperloop standard it is essential to further develop the technology with the help of a large scale European research center.
The creation of a European Hyperloop test track is explained using the example of the 32 km continuous MagLev test track in Lathen, Germany. The focus is on the operation, the coordination of the mechanical and electrical challenges as well as the subsequent standardization of the technology. INTIS is also developing wireless high power transmission, this technology could also play a crucial role in supplying power to all forms of levitating, contactless transport.
Speaker 2 | Rail gap bridging for vacuum transport system
B.Sc. Mechanical Engineering ETH
Wherever a tube of a vacuum transport system needs to be split into different sections with a valve, a gap remains inside the track. This axial gap needs to be closed, when a vehicle passes from one to another tube section. What are the requirements for a mechanism, which  closes the track gap and what are the problems of high speed rail  traveling?  The wheel rail interaction was analysed and other requirements for vacuum compatible mechanisms were listed to compare it with standard railways like the SBB.
Speaker 3 | How to cater for passengers in fast moving vehicles
Christian Harbeke, Dipl. Ing. ETH / Produktgestalter HfG
Partner nose design experience
Developing a completely new mode of transportation means making a few supercritical decisions regarding dimensions. In this case the cross section of the Hyperloop pods will decide on the cross section of the tunnel or vice versa. Reflecting our vast experience in transportation design we will show different strategies on how to arrange passengers in fast moving vehicles.